By miscommunication I ended up at the Poetry Foundation. I didn't realize this until twenty minutes into my visit. I had perused Tony Fitzpatrick's collage-print-drawings of birds, on exhibition until August 31 . Each specimen distinct and yet of its species. I sat down to read/write wondering what was taking the ppl I was supposed to meet so long. More ppl came. None were who I was expecting.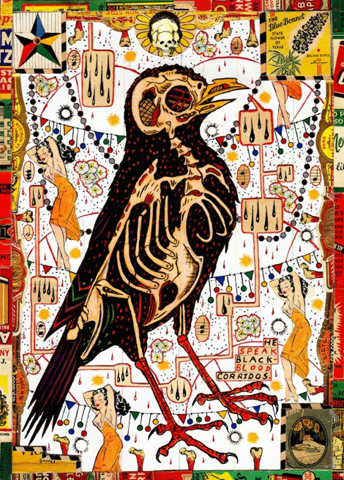 (Bird for the Daughters of Juarez by Tony Fitzpatrick 2011)
Across from me, a man sat down with a small book of poems. Within minutes a woman came up and introduced herself. He sounded gruff when he asked her to repeat her name. They were maybe acquaintances. She spoke of her most brilliant student to date. They talked of Chicago. Both were trying to get out. Both sobered up here. He was from here but began his career in New York. He wrote on politics mostly. She was from New York. She was moving to Guatemala. The man remarked that it was a great destination for bird watching. She excitedly remarked what a coincidence. That she had recently purchased every book there was to own on bird watching in Guatemala. I thought of Jonathan Franzen. She promised to give him a copy. In return he'd give her an etching. She insisted no and he insisted yes. They exchanged contact info. His email was Tony Fitzpatrick something at something dot com. I nose-laughed at the coincidence.
Go see this exhibition while you can! You just might see Fitzpatrick himself.
If you can't make it. Check out this multimedia presentation: listen to Fitzpatrick read poems for each art-bird.
Connor Goodwin can't stop. His work as appeared or is forthcoming in HTMLGIANT, Chronopolis, and Sliced Bread. He tweets and blogs.